MouseScrappers.com is thrilled to bring you a first... a collab kit that will benefit a very special place: Give Kids the World.
Give Kids The World Village (GKTW) is a 70-acre, nonprofit "storybook" resort, located near Central Florida's most beloved attractions, where children with life-threatening illnes
ses and their families are treated to week long, cost-free fantasy vacations. Their mission is to fulfill wishes of children as long as there is need and to never turn a child away. GKTW works very closely with organizations like the Make-A-Wish Foundation to fulfill these wishes. Make-A-Wish qualifies the families and provides transportation to the Orlando area, and GKTW provides a week of accommodations, food and theme park tickets - all at no cost to the families. It is almost entirely staffed by friendly, loving volunteers (or "Angels", as they are called) who greet everyone with a warm smile. The facilities around the resort were designed with special needs in mind (e.g. a carousel that accommodates wheel chairs)... and pretty much all 'typical' household rules are thrown out the window. If a child wants ice cream for breakfast, they can have it! Anything to help them forget about doctor visits, hospitals, therapy, etc - if only for a week. Give Kids the World relies on donations - so MouseScrappers is proud to be able to do our part to help. 100% of the revenue generated from the sale of this kit will be donated to Give Kids the World. For more information on this wonderful place, please visit http://www.givekidstheworld.org/

Our new kit, Wishes, Happiness and Hope, was inspired by the color and whimsy of this resort. It is jam-packed with 72 papers, a detailed template, 3 alphas, and over 200 elements!

Designs were graciously donated by:

A Grieving Mommy
Cindy Schneider
Crossbone Cuts Designs
Kellybell Designs
Keystone Scraps
Krisi's Kreations
Leslie Bodoh Designs
Miss Kim Designs
Mud Creek Designs
Natalie's Place Designs
Neverland Scraps
Wyld Peas Designs
Here´s a page I scrapped with this wonderful collab:
For more inspiration go to the MouseScrappers forum.
And for you my loyal followers I made a freebie too! Hope you like it!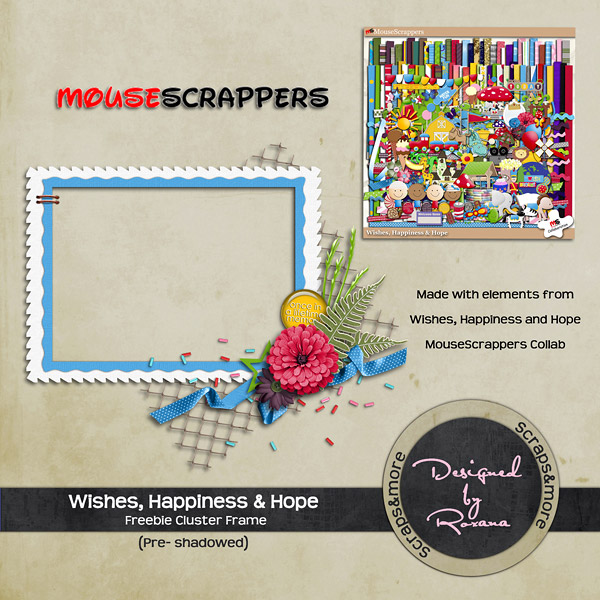 (click on preview to download from 4shared)
For more freebies from some MS members:
Don't forget to say thanks for the little gifties
Hope you're not tired yet, I wanna show you some pics from this amazing organization, Give Kids The World, so you can learn a little more about it, and how it was the inspiration for this amazing kit:
Hope you enjoyed them! The purchase of this kit will help support this organization to make happy many more kids, their smile is worth it all!