When you're listening to some great music, it makes you feel better. And when the song has a great beat and some funky words, you can do anything, right? So can an Aerosmith song make you enjoy getting catapulted off at 57 miles an hour and then flung upside down twice? You bet it can if you're riding the Rock 'n Roller Coaster ride at Hollywood Studios!! It's an amazing fun roller coaster ride with the best rock and roll music playing in your head rest. Kelly's collection today focuses on all that rock and roll fun with a new kit called....

The colors are fabulous in shades of red, black, white and blue along with some funky patterns. It's packed with lots of amazing musical elements like a guitar, microphone, sheet music notes, amplifier, ticket stub, cassette, gold record, back stage pass and reels along with cool road signs, flairs journal tags, stars and much more. This is a great kit to scrap layouts for Rock 'n Roller Coaster, High School Musical, Hollywood Studies as well as music recitals and all those air guitar concerts.

There's a fresh and funky black alpha with red outlines included in the kit that's fabulous for creating titles. Take a look at these 7 word art titles that Kelly made for you.



The 4 paper stack feature one in each color theme for Rock 'n Roller Coaster.



Check out the set of 5 page starters. You'll get 2 borders and 3 cluster frames. So fabulous for scrapping a quick layout.


This new collection will be on sale this weekend only for 25% off at
www.KellybellDesigns.com
. If you've been thinking about adding a music kit to your stash, do it this weekend when you can get a discount on this gorgeous collection. Make sure you stop by
Kelly's Blog
to check out all the amazing layout inspiration from the Creative Team.
There's so many fun ways you can scrap with this 'Rock 'n' Roll Baby' collection. Take a look at what I scrapped.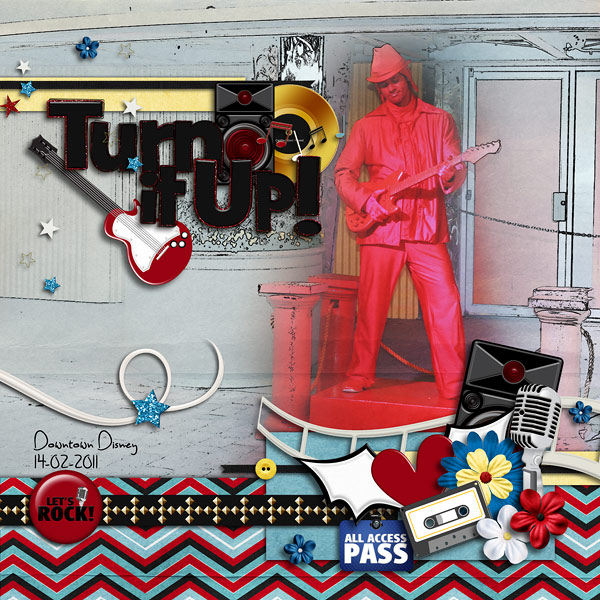 If you're ready to pick up some rockin' great freebies from the team, you can grab your guitar and sing along at
Julie's Blog
,
Kelly's Blog
and and
Linda's Blog
. Make sure you give them a thumbs up along the way. Happy scrapping and have a great week!